No environmental concerns about these 'GMO Flowers'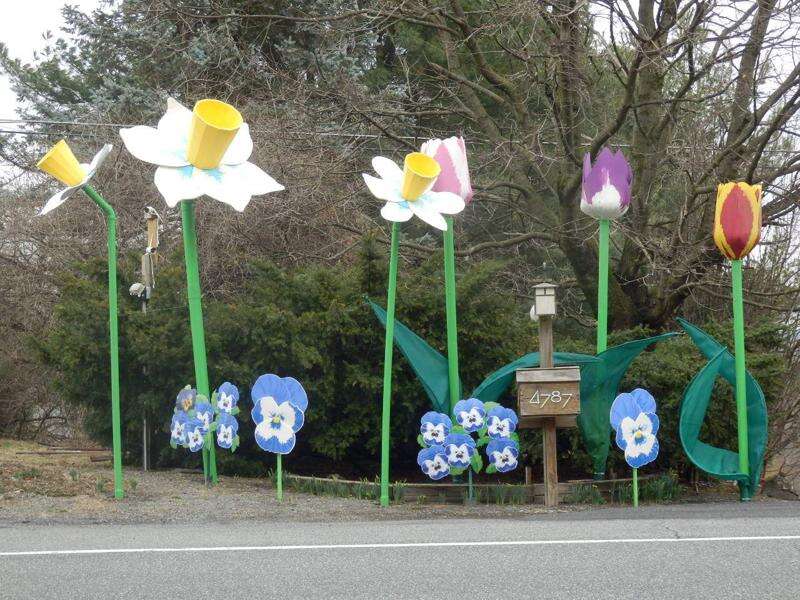 Published April 01. 2021 07:21AM
By ANN A. WERTMAN
Special to The Press
A garden of majestic GMO flowers has magically sprouted brilliantly along Route 100 in Lowhill Township, nurtured by the loving hands of Phil Rossetto and Greg Snider, the Northwestern area's seasonal purveyors of roadside fun and beauty.
Every one appreciates the beauty of new life budding forth in our gardens each spring dazzling us with their heartwarming colors and heralding the days we will once again be able to shed all those layers of clothing and escape to the great outdoors to frolic.
This creative duo dubbed their spring display "GMO Flowers," appropriately named with man-made materials uniquely modified into surrealistic plant life.
In this application, perhaps "GMO" should mean "Great Minds Overflow."
Few of us have the vision to look at a Styrofoam garden rose cover in the gardening section of any shop and see a daffodil trumpet evolving with the assist of white steel flashing becoming the finishing petals before stemmed on a PVC pipe and presto a brilliant daffodil evolves.
Foam board, green garden fabric and the ever handy electrical supplies mold into the colorful tulips and quaint pansies.
Thanks go to Phil and Greg for the awesome seasonal art with which they continue to delight the community.